LETHAL FEMALE
Fantasy depictions of a damsel-in-distress, persecuted maiden, or princess in jeopardy, a classic theme in world literature, art, film and video games; most notably in those that have a lot of action. This usually involves beautiful, innocent, or helpless young female leads, placed in a dire predicament by a villain
Femme Fatale
sometimes called a maneater or vamp, is a stock character of a mysterious and seductive woman whose charms ensnare her lovers, often leading them into compromising and deadly situations. She is an archetype of literature and art. Her ability to enchant, entice and hypnotize her victim with a spell was in the earliest stories seen as being literally supernatural; hence, the femme fatale today is still often described as having a power akin to an enchantress, seductress, vampire, witch, or demon, having power over men
HIT LADY
A variety of often erotic practices or roleplaying involving bondage, discipline, dominance and submission, sadomasochism, and other related interpersonal dynamics. Given the wide range of practices, some of which may be engaged in by people who do not consider themselves as practising BDSM, inclusion in the BDSM community or subculture is usually dependent upon self-identification and shared experience.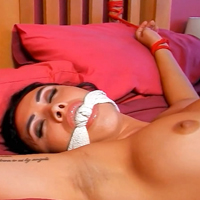 LEATHER GLOVES
Glove fetishism is a sexual fetishism where an individual is sexually stimulated by another person or oneself wearing gloves on their hands. In some cases, the fetish is enhanced by the material of the glove (e.g., leather, cotton, latex, nitrile, PVC, satin or nylon). Often, the actions of a gloved hand are as arousing as the glove itself
UNIFORMS
Uniform fetishism is a particular type of clothing fetishism in which an individual is sexually aroused by uniforms. It is a form of sexual fetishism. Uniform fetishism has been associated with a variety of different uniforms, including schoolgirl and cheerleader uniforms, French maid uniforms, and uniforms associated with police or military organisations.
BATTLE FOR GUN
Catfight (also girl fight) is a term for an altercation between two females, often characterized as involving scratching, slapping, hair-pulling, and shirt-shredding. It can also be used to describe women insulting each other verbally or engaged in an intense competition for men, power, or occupational success